Samsung Galaxy Note 9 review: a great phone blighted by Bixby
Samsung's new flagship phone seems less exciting than it is. But when one of its major selling points is a huge battery, the charge life is a letdown.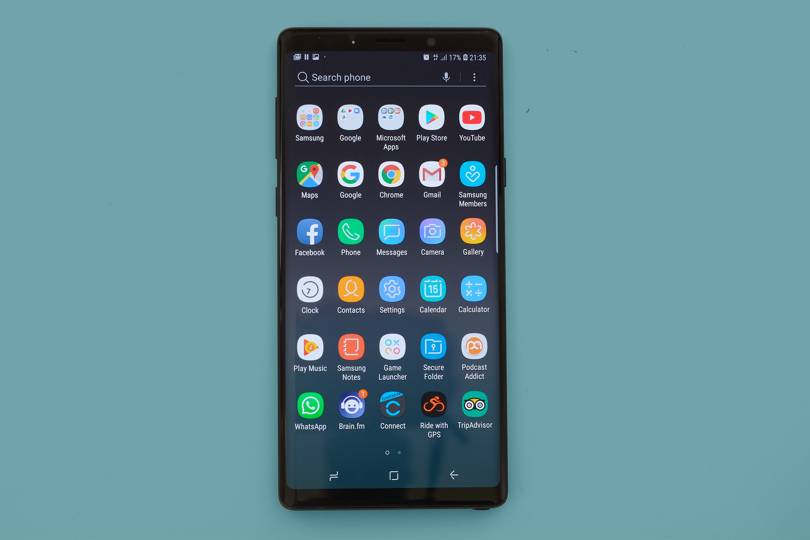 Samsung's Galaxy Note 9 is familiar and, for many, not exciting enough considering some versions cost well over £1,000. However, these days a somewhat unexciting phone can still be one of the best in the world. That is the Samsung Galaxy Note 9 for you.
Its battery and low-light photos aren't quite a match for the Huawei P20 Pro but thanks to the great S-Pen stylus the Galaxy Note 9 is still in a class of its own.
The new and familiar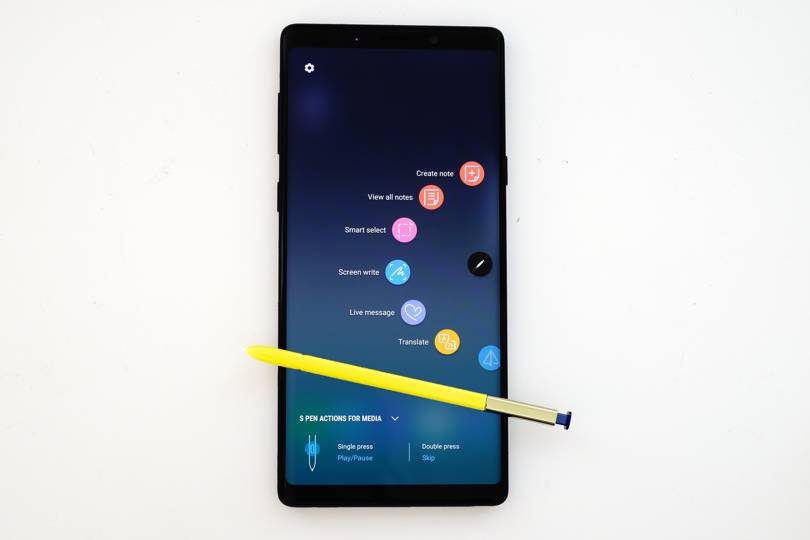 The Samsung Galaxy Note 9's best new features exist within a familiar framework. This is the phone's problem, if we have to find one. It is why the Note 9 can seem a little dull even when it is one of the most powerful and versatile phones in the world.
Its S-Pen is a key example of this in action. The Note 9's S-Pen looks and feels very similar to the Note 8's. It's a skinny piece of plastic that slots into the phone's bottom. As ever, you can use it to control the phone, to handwrite messages instead of using a virtual keyboard. And you can doodle away in Samsung Penup or an altogether more serious app like Autodesk Sketchbook Pro. Doing so feels natural.
The stylus uses Wacom digitiser tech to let it feel like a real pen or pencil, complete with pressure sensitivity. Some 4096 levels of sensitivity in this case.
Outside of arty types, many of us will find the "screen off" note-taking feature most useful. Just press the Note 9 S-Pen's clicker to release it from the body and you can immediately start scrawling notes on the screen. These notes are saved in the Samsung Notes app. You can't do this with any other phone. Excerpt, of course, the Note 8. Until you dig a little deeper, the S-Pen seems just like that of the last Note.
Samsung's new S-Pen feature is something a little odder. The Note 9 stylus has a tiny battery inside, because it uses Bluetooth. This isn't required for the normal stylus operation, but it is needed when you take the S-Pen more than an inch or so away from the screen. At this distance it changes from a digitiser stylus to a Bluetooth remote. Like the world's most prosaic James Bond gadget, the S-Pen can remotely load and fire the camera, start/stop voice recordings and play/pause music.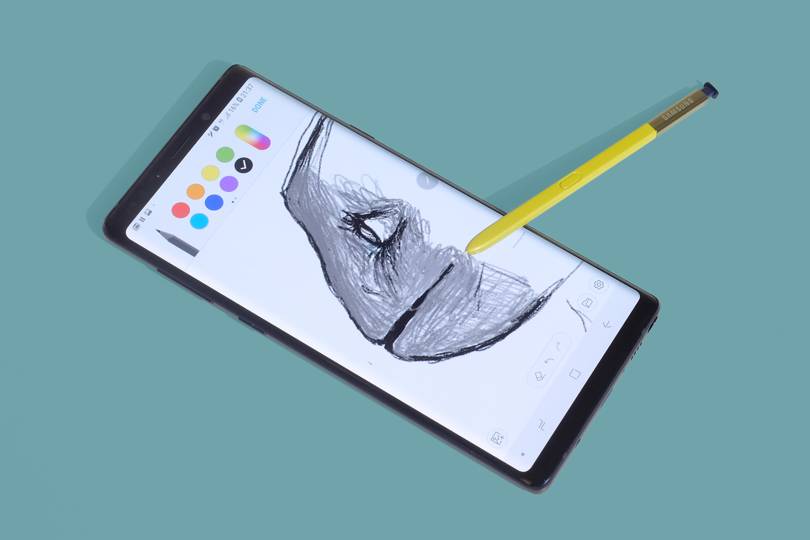 Samsung says the pen's SDK will be available soon, to let developers create more uses for it. However, given it already works with Spotify, the music player app and podcast apps, most obvious uses are already covered.
The real issue is finding an S-Pen wireless job you'll actually use. Skipping tracks while out for a run? Maybe. Taking a pic of the whole family without using a timer? That rock looks like a precarious place to rest a £1,000 phone, but if you must. Controlling a presentation at work? Sure, but you know everyone else uses their work laptop to display the quarterly report, not their phone, right?
The S-Pen lasts for roughly 200 button presses or a half-hour, so is not really suited to life as an all-day remote for your desk Bluetooth speaker. However, it'll recharge within a minute of being back in the phone.
Samsung desperately needed something new for the Note 9. It found this new S-Pen concept to fill the role. It's novel. It works. But you do have to try to find a place for it in your life. Existing S-Pen tasks like note-taking are still the most important draws.
Whether you're convinced or not, the Note 9 S-Pen is still unbeatable for impromptu notes and creative time-wasting on the way home from work.
Sound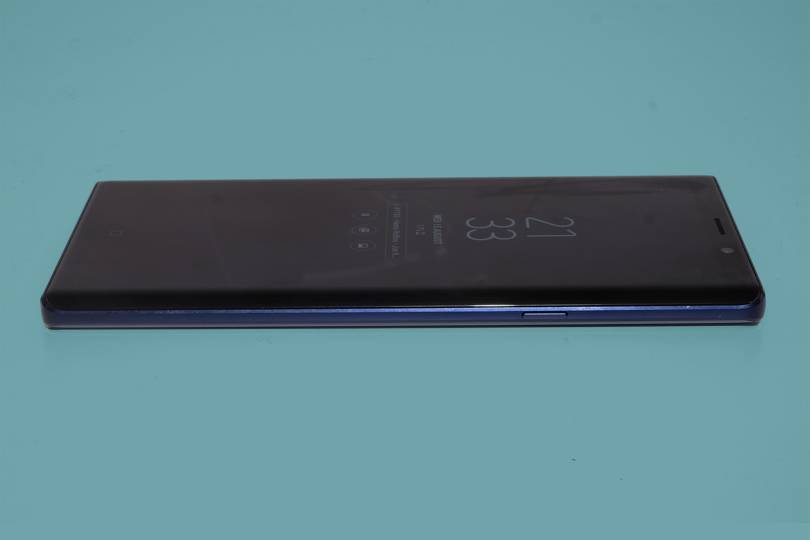 One of the Galaxy Note 9's most meaningful upgrades is something many find hard to get excited about. The speaker array is much better this time around.
Just like the S9 family, the Note 9's speakers are tuned by AKG, and there are two drivers. One sits on the bottom, another on the front. These speakers are far fuller and bassier than most, able to deliver music and podcasts with at least a grain of confidence. The Note 8 only has one speaker. And it sounds much thinner and weaker than this.
Unlike an iPhone X you can also plug a pair of headphones into the Note 9. The Note 9 is a great phone for music fans. In fact, this is one of the best phones for media in general. But again, Samsung's top phones have maintained such high standards for years, class-leading performance seems as ordinary as Tesco tinned tomatoes.
Display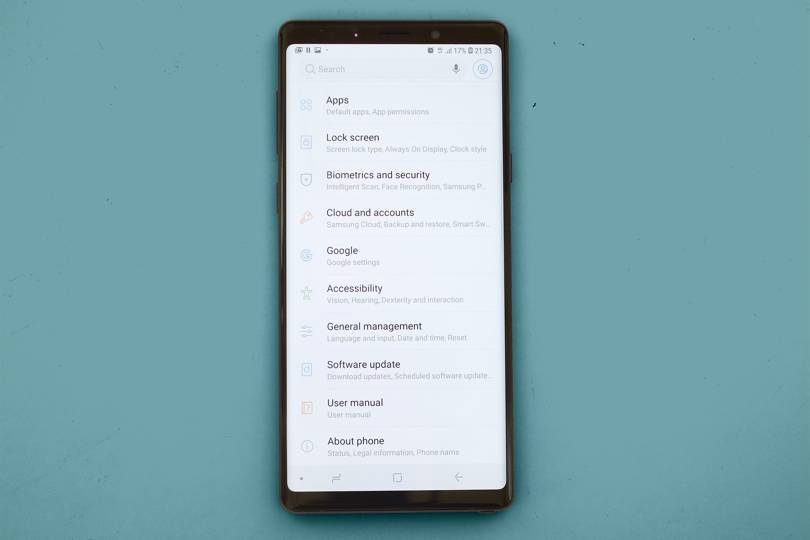 The Galaxy Note 9 does have the best phone display available right now by DisplayMate's reckoning, though. It's a 6.4-inch 2960 x 1440 pixel screen, 0.1 inch larger than the Note 8's. Every element is beyond reproach. Contrast, brightness and sharpness are all excellent. Colour modes let you pick between ultra-saturated or neutral tones, tightly calibrated to match professional standards like sRGB and Adobe RGB. Great maximum brightness is of more interest to the average person. The Note 9 is clear even on bright days.
Those who haven't used a curved-front Galaxy phone before may be put off by the slight colour shift of the curves on the front. For the real connossoieur, a flat screen is still preferable to Samsung's curved style. Samsung doesn't make ultra-high-end flat phones anymore, though.
Camera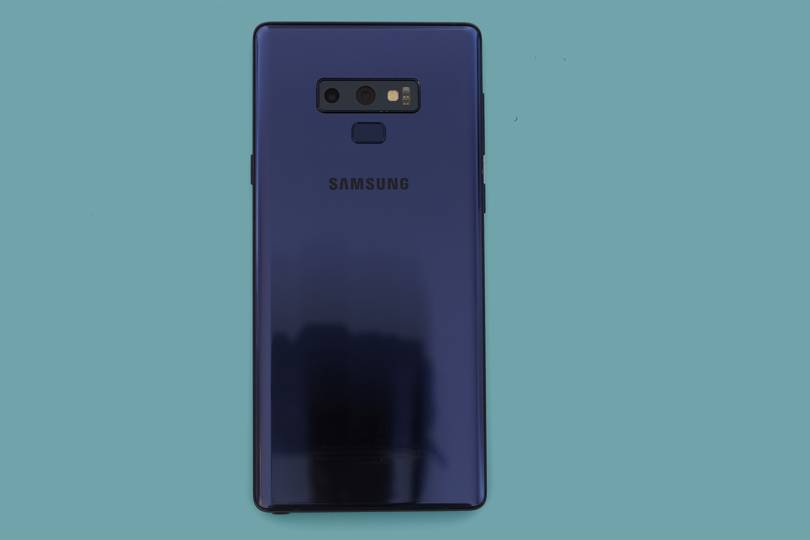 You'll see this "familiar perfection" effect in the camera, too. The Note 9 has almost the same camera setup as the Galaxy S9+. There are dual 12-megapixel cameras on the back, one with a 2x zoom lens. The Note 9 can shoot fantastic shots in almost any situation.
Its dynamic range optimisation is excellent. Low-light performance is among the very best. It is only clearly beaten in this area by the Huawei P20 Pro, which takes several seconds to capture one night image.
Optical image stabilisation also makes taking an out-of-focus shot almost difficult during day time. And, in one of the few brand new camera bits for the Note 9, the app will actually tell you when the shot is blurry. A little speech bubble appears post-shoot.
The Note 9 is equal parts brilliant and familiar. Whether that familiarity matters depends on whether you upgrade every year or every 2-3.
Bixby
Not too much has changed in the software recently either, aside from the shuffling rise of Bixby. This is Samsung's own digital assistant, and the Note 9 has a dedicated button to wake it. No phone has promoted Bixby as clearly as this.
Bixby trails behind Amazon Alexa and Google Assistant like a school kid from the year below desperate to play football with the bigger boys. However, it can do some neat things, such as changing the screen brightness, toggling settings like Wi-Fi and opening up apps.
Most digital assistants live in the cloud and just touch on your actual phone hardware. Bixby is rooted in the phone, and is not so hot at the wider world stuff. It's speech recognition isn't as clever as Google's either.
Bixby does offer something a little different to the other assistants, but giving it a dedicated hardware button is perhaps overkill. And means you'll often accidentally wake Bixby. There's no way to truly get away from it, which is slightly ridiculous when even Samsung marks it as a "beta" feature.
Software and hardware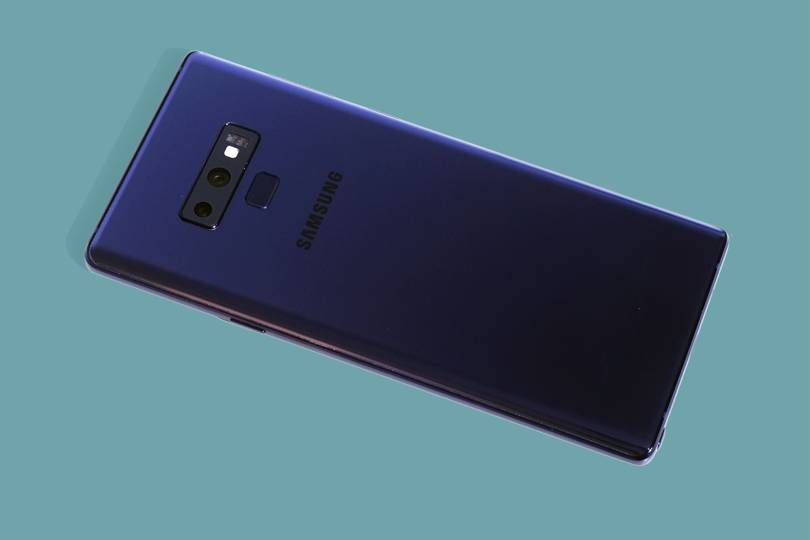 The rest of the Note 9's software and hardware is much like that of 2018's other Samsung flagships. It currently runs Android 8.1.0 and the same breed of Samsung interface seen in the S9. There are homescrens, app pages, all with a light touch of Samsung's visual style. The Note 9 is smooth and reliable, and while the Samsung Exynos 9810 CPU is not new, as of late 2018 it is still one of the fastest, most powerful available.
The Note 9 does, however, have more storage than its S9 siblings. A 128GB version is sold most commonly, and a more expensive 512GB one is also available. This £200 upgrade also adds 2GB RAM, from 6GB to 8GB.
This is a phone for people who want more. And if for some reason 512GB storage isn't enough, the Note 9 also takes a microSD card for up to 1TB storage. It has a finger scanner, face unlock and hardware for low-light iris scanning, too.
If the Samsung Galaxy S9 is a McDonald's Big Mac Meal, the Note is one with extra large fries, added bacon and cheese, and an apple pie to finish off. It is rather classier than a dinner out at McDonald's, though. Gorilla Glass on the front and back with a band of satin finish aluminium in-between. The Note 9 is classic Samsung, a solid coda to the company's 2018 line-up, if not one that teases about what is to come next.
Verdict
Those looking for never-before-seen mobile innovation won't find too much of it in the Galaxy Note 9. If Samsung's engineers have cracked a few more mobile features, we'll see them in the Galaxy S10 next year, not here.
However, it's wrong to class the Note 9 as anything but a success. It has the speaker and camera upgrades of the S9 family, matched with the S-Pen many love, enriched with remote Bluetooth control features.
There are just two disappointments for realists who can accept a less-than-groundbreaking phone. Battery longevity is lower than the specs would suggest and the non-customisable Bixby button is a step too far. Samsung's digital assistant needs support, but spending around £1,000 should grant us the right to ignore it if we want to.
Source:
https://www.wired.co.uk/article/samsung-galaxy-note-9-review
0 comments